It was described by a word that we just don't hear anymore, community. It was something we all felt very much a part of and felt like we were all equal. Common ideals, a common culture a common outlook and to paraphrase Bob Dylan, "the times they were a changin'". It felt like a whole new town was springing up around us. There were newspapers that reported on our lifestyle, new bands sprang up that played our music, new clubs that featured those bands record stores sold their records and retailers sold the clothes and tools of our life.
And through it all there was a soundtrack of our lives on the radio. WHFS, and that community will never exist again. But now Feast Your Ears: The Story of WHFS 102.3 the movie will bring back the memories and save them for posterity. I hope you will join me and my colleagues for the ride – and join our "tribe" – the HFS Heads!
Weasel
P.S.
In case you haven't heard, I'm still on the radio waves at WTMD, the NPR station in Towson, Maryland. Join me on WTMD 89.7 FM every Friday evening from 7 – 10pm. The program repeats Saturdays from noon to 3pm.

Here's what WTMD has to say about my weekly radio show…
Remember Radio the way it used to be?
Every Saturday afternoon at 12 and Friday nights at 7, the legendary Weasel brings three incredible hours of music and story telling.  Weasel handcrafts long themed sets about news events, pop and American history and whatever else tickles his fancy.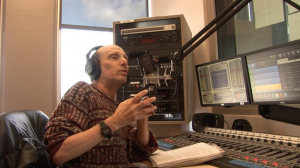 Sets can last long into the hour with Weasel weaving a musical play by play of each tune's history and importance.  Weasel's long radio career started during the glory days of WHFS in Bethesda and been a friend and musical guide to generations.
In March, the Baltimore City Paper published an article about me written by Charles Cohen. Click here to read all about it!
Sign up and be the first to know!
Be sure to go to the homepage and sign-up for our news and events alerts to be the first to hear about our upcoming concerts and appearances at Harp and Fiddle and Villain and Saint. We will be launching a Kickstarter campaign in September, and would greatly appreciate it if you would help us spread the word about Feast Your Ears: The Story of WHFS 102.3 documentary in production to all your friends and fellow HFS Heads!