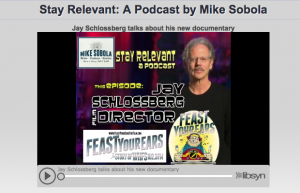 Media Central Films' Executive Producer, Jay Schlossberg, was interviewed by Mike Sobola, Staying Relevant Podcast host and producer, about his early career and where he is today, in production on the HFS feature length documentary, Feast Your Ears: The Story of WHFS 102.3 FM.
CLICK HERE TO HEAR THE PODCAST INTERVIEW
About "Staying Relevant" Host, Mike Sobola
Mike Sobola spent the formative years of his career working in New York City.  Now based in Washington, D.C., his repertoire includes commercials, music videos, and pieces for corporate, government and broadcast programs. He has written and produced shows airing on NBC, CBS, HBO, Discovery, The Sci-Fi Channel and others.  He also spent five years on staff at the Travel Channel eventually serving as Writer/Producer of the popular travel series "Etc…Etc" with Matt Lauer.  In addition, Mike worked with Brian J. Kelly to co-write and produce "Top Gun: The Real Story", a documentary for Discovery's TLC, and went on to take Writer/Producer roles with several companies, including Atlantic Creative, FDA TV Studios, and Moondog Entertainment.
At Moondog, he served as Executive Producer in Charge of Development and Production and oversaw the 26-part series "Techknowledge" for Discovery Science. Click here to go to MIKE SOBOLA'S website.
Mike has a degree in Radio, Television, and Film from the University of Maryland and a Certificate in Filmmaking from New York University.  He is a private pilot, a swimmer, and loves a great steak.  He lives in the D.C. area with his wife & daughter